Our Journey
Adviks was founded in 2012 and has since then been committed to delivering and scoring high for customers on different English aptitude tests like GMAT®, GRE®, SAT®, TOEFL™ ,PTE,CELIP and IELTS™ .Our presence has been in different companies like Nokia,Aajtak,TV Today,Pitney Bowes,RMSI,Crocs where we have imparted Communication skills programmes.
At Adviks, we have grown to assisting students for education abroad, where we are helping students give shape to their career and dreams. We have personalised the experience and guide students with customised counselling, individual profiling with complete feedback on essay,SOP ,LOR and design presentations so that they know what to expect.Apart from that we also counsel them on post study plans and job options .Over the past few years, we have sent many students to different countries like Canada,USA,UK,Ireland .We have been successful in getting students into top universities and colleges of their choice along with scholarships.
Having achieved success and fulfillment in assisting students we further spread our wings onto Canada and Australia immigration.Our personalised counselling and guidance on various PNP immigration visas has allowed our students to get their PR cards and settle in Canada and Australia.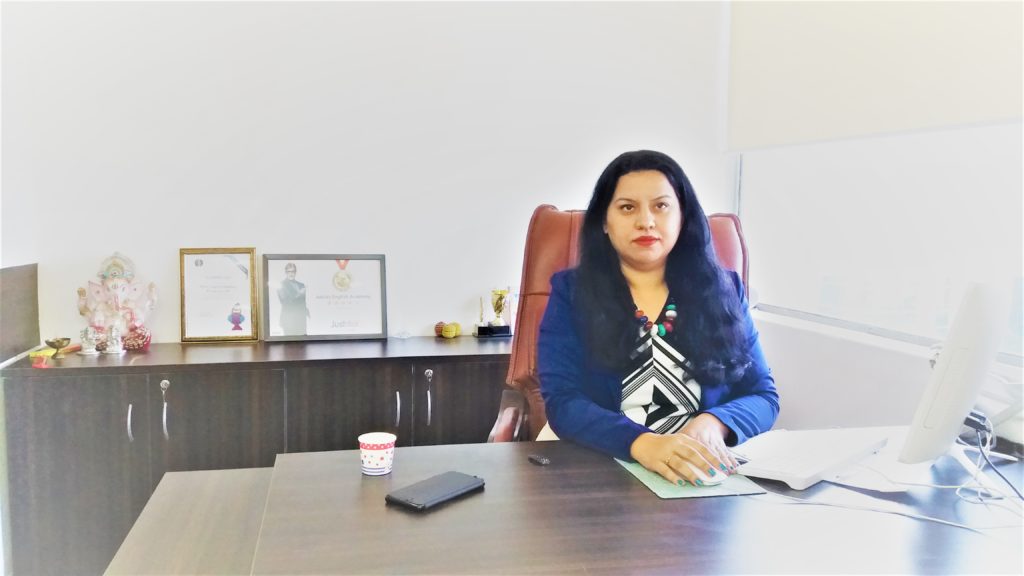 OUR DIRECTOR- Namrata Palta
In 2002 Namrata Palta a freelance communication coach was actively into training at different companies to improve the language barrier that a lot of people were facing in English with various organisations.Her corporate programs in companies were an instant hit and many benefitted from them. At a young age of 28 she decided to spread this knowledge at root level onto kids of junior and senior school.She started training kids on English and personality development programs from her residence and soon she had to launch an institute that would help students excel in English language.
Namrata has written 5 books on English language . She has authored an excellent book "Crack the PTE Academic " for with tips & strategies for cracking the PTE exam. Her book"Art of Effective communication "is the text book for "Functional English For Executives" at Periyar University.Both the books"Art of Effective communication" & "Spoken English" are course text books for Soft Skills at Annamalai University.
During this time period she was approached by many parents to assist their children in preparing for study abroad exams like IELTS ,GMAT, SAT and she realized that parents were a troubled lot when it came to sending their children abroad as they were completely unaware of the process for the same.This made her start her various counseling sessions on the process of application to universities abroad.This soon gained momentum and Adviks customized training programmes along with study abroad counseling. Many student were placed in Ireland,canada,USA.
One thing led to another and she had parents visit her for immigration consultation and soon Namrata added Canada and Australia immigration consultancy as a feather to her cap .
Today Adviks is a one stop solution for English training,study abroad and immigration consultancy which is a one of a kind initiative.Her team has powered in on her knowledge along with expertise and assist students with the same passion that Namrata has always had.
She believes that "positive word of mouth publicity "is a gift that she has received from her customers and she will strive to live up to the expectations of her students and people who have trusted her and been with her through this journey.